Welcome to Your Newly Renovated Club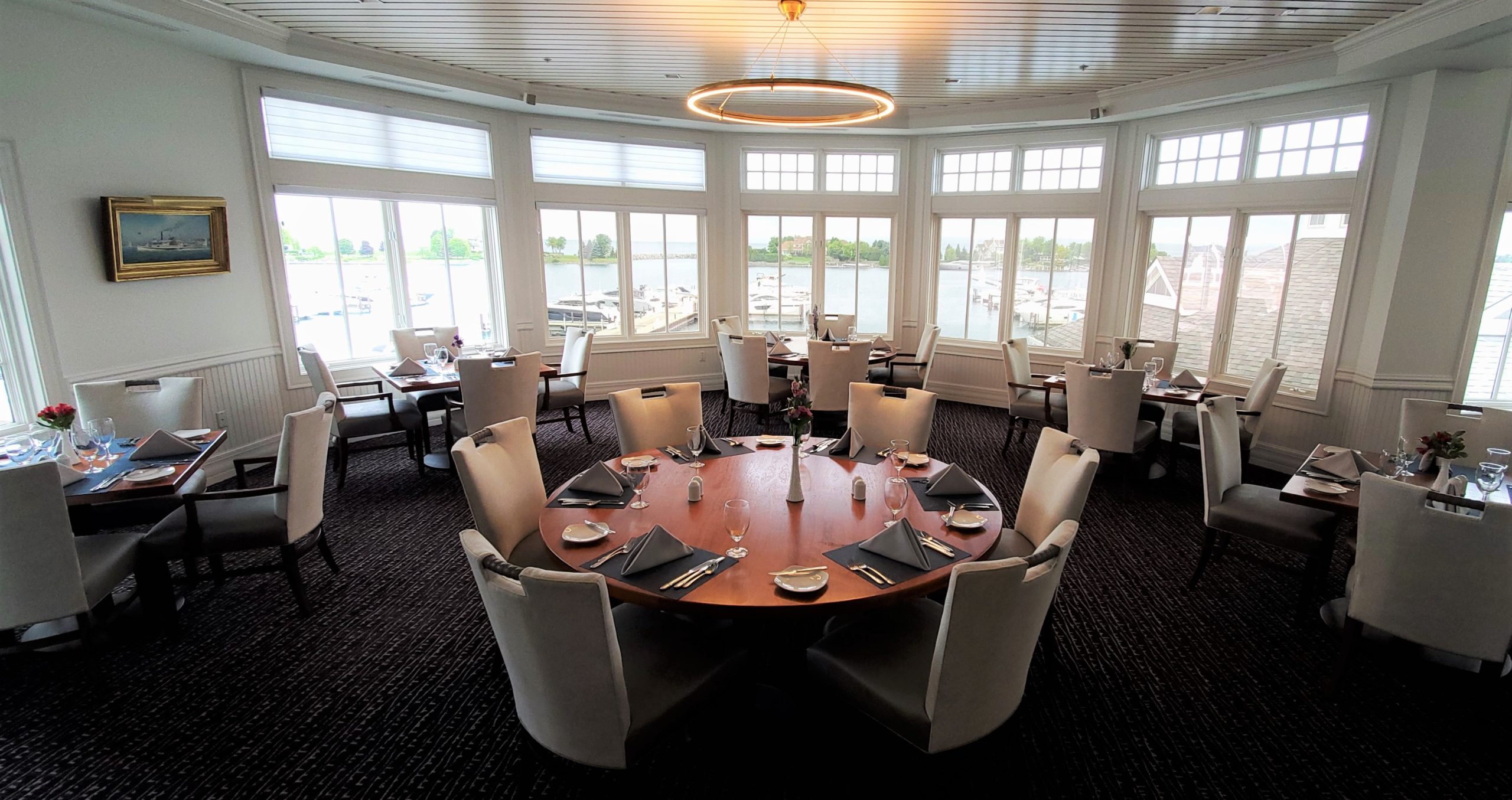 In the past year, Bay Harbor Yacht Club has undergone various renovations as part of its Building on Perfection renovation and expansion project. With over $13.5 million worth of renovations coming to completion this summer, there is no better way for this landmark club to celebrate its historic 25th-anniversary. Contemporary modern design has officially arrived in quaint Bay Harbor, Michigan, enhancing this magnificent setting even more. Bay Harbor Yacht Club has prioritized community and wellness throughout these renovations and has created a space for members to gather. Discover all of Bay Harbor Yacht Club's completed and future renovations!
An Elevated Dining Experience
The Bay Harbor Yacht Club is home to various dining venues for every occasion. For a more upscale experience, the newly transformed Bay View Dining Room, completed this past May, allows members to socialize in a relaxed ambiance with a specially crafted menu and a beautiful view of the Harbor. Enjoy a gathering lounge for sips and bites or host special celebrations in one of the private dining rooms. This lounge is the proud product of Bay Harbor Yacht Club's sense of comradery.
The Grille Room & Quarter Deck
Completed June of this year, The Grille Room is the newest addition to Bay Harbor Yacht Club's lively gathering spots. Offering indoor and outdoor seating, it provides the perfect location for a fun night out with friends and family. The Grille Room has a vast menu with classic takes on hamburgers and wings, premium wines and craft beers. With televisions streaming multiple sporting events, members will have a new favorite spot to grab a bite after a day out on the boat or golf course.
With a highly anticipated late-June debut, additions to the existing design of the Quarter Deck give members a comfortable atmosphere to soak up the summer weather. Listen to live music, roast marshmallows over fire pits, or have a cocktail at the new Gazebo Bar. Enjoy a diverse menu that enhances the ambiance of the breathtaking views of Bay Harbor Lake.
Capitalize on Health and Wellness
With the addition of a Relaxation Spa, members can treat themselves to soothing and tranquil amenities for rest, relaxation, and rejuvenation. Features like steam rooms, massage rooms, facials, and other luxury spa services create a stress-relieving atmosphere. Members can order from a light menu consisting of healthy food and beverages as they relax at the outdoor spa lounge.
The Wellness Center, which reopened last August, is the perfect place for members to break a sweat. Housing brand new state-of-the-art equipment, the 7,500 square foot center has much to offer. The Wellness Center hosts classes both in person and on the nine-foot digital wall, Technogym equipment featuring touchscreen cardio units, and workshops and events for educating members about personal wellness. There is even an indoor virtual golf simulator that aids members in improving their golf skills.
Start the summer off with a splash at the Aquatics Center, completed in late June. Relax on the sundeck on a poolside chaise or swim a few laps in the 25 yard recreation pool. Children will love playing in the designated splash pad, and members are encouraged to take advantage of the hot tub and spa area, as well as the aqua-fit programming. The Aquatics Center is the best way for members to spend sunny summer days at the Bay Harbor Yacht Club.
Celebrating 25 Years
Since 1996, the Bay Harbor Yacht Club has been a place for family and friends to gather and enjoy scenic Northern Michigan. There is no better way to celebrate the sense of togetherness than by updating spaces intended for people to congregate. These renovated spaces will serve as the backdrop of countless memories. Each space was intentionally updated to honor personal connections and the picturesque Bay Harbor area amongst members. It is no wonder why the Bay Harbor Yacht Club is referred to as the social epicenter of Bay Harbor.