Embrace the Good Life
In a fast-paced world where life often feels like a constant hustle, many seek a sanctuary where they can unwind, socialize, and indulge in their favorite leisure activities. The Bay Harbor community offers an oasis of luxury and exclusivity, providing residents, members, and guests with an array of privileges and amenities that can transform everyday life into something extraordinary.
Bay Harbor Golf Club and Bay Harbor Yacht Club are excited to collaborate and introduce a very special opportunity designed specifically for individuals looking to embrace the exquisite lifestyle the Bay Harbor community offers.
The Bay Harbor Lifestyle Package offers a chance to experience the world-class amenities, wellness and recreational opportunities, and the active and social lifestyle enjoyed by our members, with a significant initial savings and other benefits.
Golf and Beyond: Bay Harbor Golf Club
Bay Harbor Golf Club is a golfer's paradise, set against the backdrop of Lake Michigan's crystal-clear waters. This 27-hole course designed by the renowned Arthur Hills offers not just breathtaking scenery but also challenges to golfers of all skill levels. With well-manicured fairways and greens, it's no wonder the course has received accolades and recognition for its sheer beauty and playability. The Bay Harbor Golf Club isn't just a place for golf enthusiasts; it's a community of like-minded individuals who share a passion for the game and a love for the Bay Harbor lifestyle.
The Social Center of the Community: Bay Harbor Yacht Club
Nestled along the pristine shores of Lake Michigan, BHYC provides an array of amenities and activities for those who appreciate an active, and social lifestyle. Following a recent $13.5 million renovation project, members of all ages can enjoy three unique dining experiences with offerings from epicurean to casual; a competition-length infinity edge swimming pool; a relaxation spa with a full menu of luxurious services; a state-of-the-art wellness center; private sandy beach and water recreation; a vibrant tennis and pickleball community; and a year-round calendar brimming with various programming and events offering endless social opportunities.
The Bay Harbor Lifestyle Package
Join both Bay Harbor Clubs simultaneously by December 31, 2023 and receive a 20% savings on both joining contributions, plus waived dues and minimums until the next dues billing for each club in 2024.
Bay Harbor Yacht Club offers year-round privileges – enjoy the holidays and ski season at the Club!
A glimpse of the benefits:
Initial savings of $13,300 at the time of application, plus waived dues and applicable minimums until 2024.
All member amenities and benefits are included.
Applicant must apply to join both Bay Harbor clubs to receive discount.
Applicant must apply by December 31, 2023.
Joining contributions at both clubs are non-refundable.
Inquire to Learn More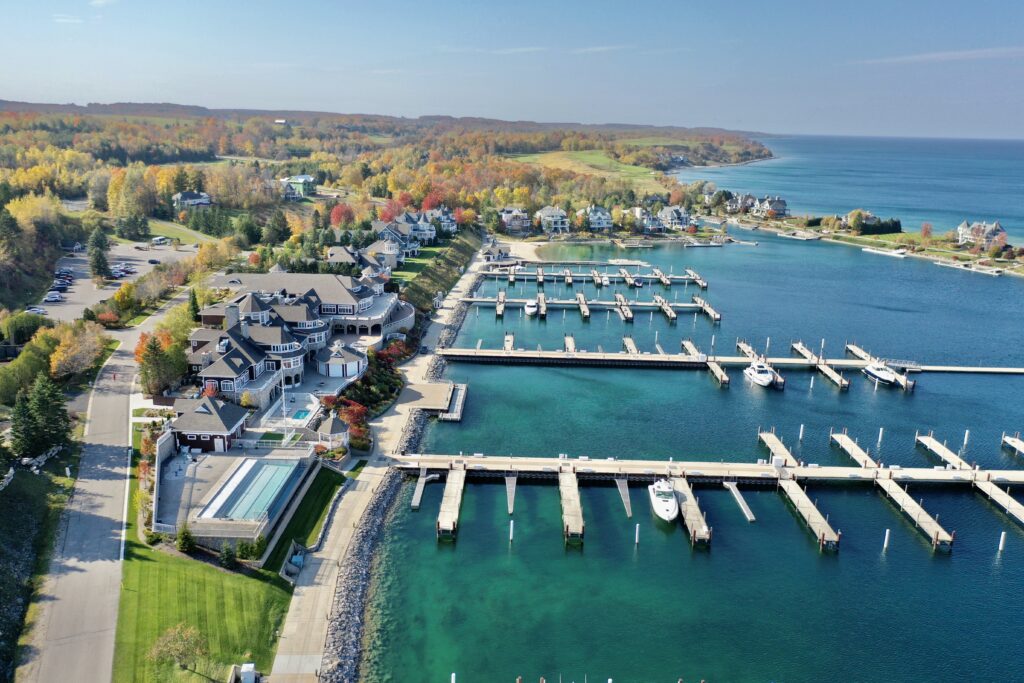 In our Members' Words
"As members of the Bay Harbor Golf Club and the Bay Harbor Yacht Club we value the first class recreational amenities including golf, racquets, boating and the wellness center. We especially appreciate the social activities from the golf club member-guest invitational to the pickleball tournaments. The numerous social parties and the fabulous dining options; with some of the best views we have ever seen are icing on the cake! We rarely leave the community."

Brian C., Member of BHYC and BHGC
Join our Club Families
The Bay Harbor Lifestyle Package is a unique opportunity to experience the best that Bay Harbor Golf Club and Bay Harbor Yacht Club have to offer. With savings on joining fees and waived dues until 2024, there's never been a better time to become a part of this exclusive community. Don't miss your chance to make the Bay Harbor lifestyle your own – join our clubs and enjoy the finest social and recreational opportunities in northern Michigan.
It's All Here at Bay Harbor