Meet the Adelson Family.
Kendra Adelson is a proud Mom whose family purchased a home at Bay Harbor in 2016. But perhaps it was her daughter Tia, who really shed some light on what makes this lakefront lifestyle so special by sharing her thoughts about growing up in this cherished coastal community. Tia kicked off the conversation. "We used to have a place in Charlevoix so when I came here there was so much more to do," referencing the move to Bay Harbor. "I made more friends. We go boating a lot. We swim. We go to the beach. We do a lot of things."
Kendra appreciates the uniqueness of the Bay Harbor Yacht Club lifestyle. "They have a great camp for the juniors here. They aren't bored for one minute. They teach them how to sail, they teach them tennis, they teach them pickleball. And these kids are growing up together." For the family, life has changed. "We come to Bay Harbor after the last day of school, and we go home the night before school starts. We just have our new life up here with these new families, and it's amazing. And just watching them grow up together, it's wonderful. So it's a great place for families. It really is."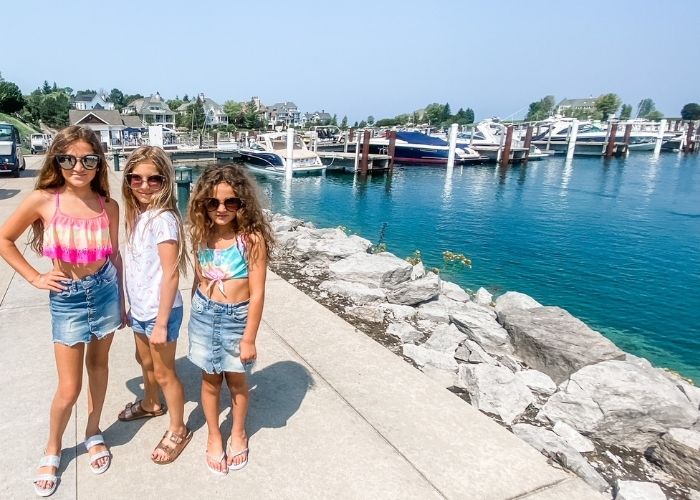 Tia lends her thoughts. "It's very kid friendly, from my perspective. At the beach you can go paddleboarding, kayaking or you can go on sailboats. There's a restaurant on the beach. There are fun activities, there's a playground and that's not even including the day camp and the Yacht Club Kid's Room here."
For those who thought Yacht Club living is just for adults, Kendra would disagree. "They make sure that everything we do is family oriented. We were one of the youngest members to join five years ago, and everybody made us feel welcome from the minute that we joined. And every event that we go to, they love having the kids. It's just a great place."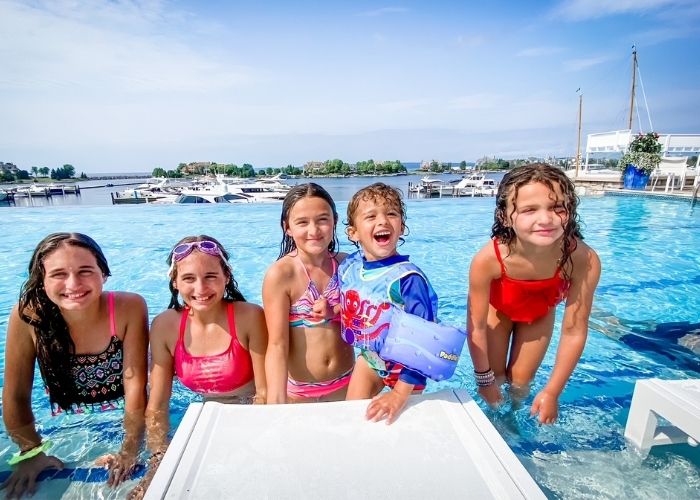 "We always say that this is like this 'little pillow of perfection.' Now we've had families that have come and stayed with us, who are now Members. So that's really fun to merge those two worlds. Whether it's new families that we met up here– some of our best friends and my closest friends now are the families up here. And now they come from all over–some who are year-round up here. It's wonderful."
For Tia, her growing friend base is a big part of the attraction. "Our first summer here it was just like back-to-back family. Now, at least three of my friends who stayed up here, have places of their own up here." And what do they do together? "Well, we just got a new boat a couple months ago, and so we're still like getting used to it. But we day boat all the time. We go to Fisherman's Island, Petoskey State Park and sometimes we go to other places to dock or anchor. But our favorite place is definitely the Yacht Club, just because there's so much to do."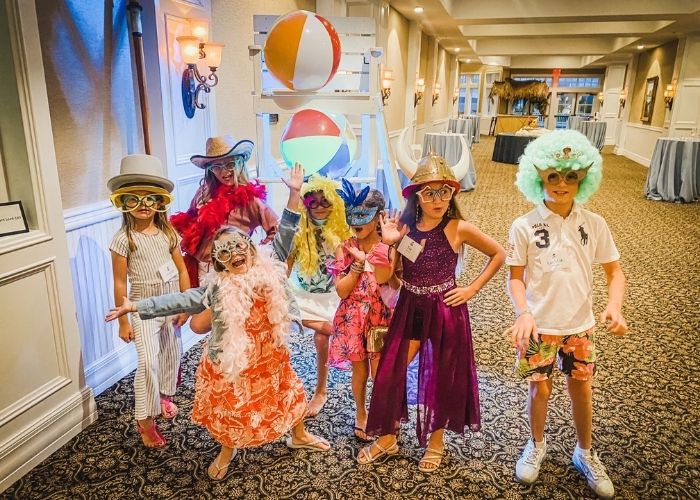 Mom is thrilled. "When we say, 'let's go on vacation, let's go to Florida' – all the kids say 'No, let's go to Bay Harbor.' It's just cute to watch these little girls. It all started when they were 2 or 3. And now, they are 8, 9, 10. And you're just watching them walk along the promenade or down at the beach. It's like this is their home. They own it. You know, we're just kind of spectators in their world."
For those wondering what happens after summer ends, the Adelson's have that covered. "We spent about 60% of our time here and about 40% down state last year. So that allowed us to understand what winter is like. Tia took a few skiing lessons with my husband, and now she's an avid skier." And how has this changed the family's perspective? "Now I feel like we have kind of merged those seasons together and learned what northern Michigan winter looks like. We've had a lot of fun with that."
Tia agrees, "There's just so much to do. Like my family and I like to joke around, and we say there's almost too much to do. Like every day there's a different party or event." Kendra says "When I ask my kids, whether it's December or it's April or its the middle summer, 'where do you guys wanna be today?' It's always Bay Harbor. And we've taken them all over the world- this is honestly their favorite place. So obviously we made a good decision."
The Adelson family are just a few of the wonderful Members that make the Bay Harbor Yacht Club such a special place to be a part of. Encompassing 5 miles of the Lake Michigan shoreline, Bay Harbor's natural beauty – serene lake views of crystal-clear water, lush woods and gently rolling topography create a peaceful haven away from the noise of everyday living. Families often enjoy boating, swimming, and fishing off the shores of Lake Michigan or walking or biking along the Little Traverse Wheelway. The Bay Harbor Golf Club has been called "The Pebble Beach of the Midwest" and the Bay Harbor Yacht Club is known as the social centerpiece of the entire community.